To make everyday walking more fun and interesting we are collaborating with award-winning artist and poet Alec Finlay as our artist in residence. His ideas are of great benefit to our work, especially during the Covid-19 pandemic, when we need new thinking to help us adapt to different situations and appreciate what's special around us.
Prior to lockdown, Alec met with several Walking for Health groups to discuss ways to connect with and appreciate their local walking environment. Ideas that were to be developed included exploring place name meanings, writing poetry, creating bird nest boxes, inscribing walking sticks, and designing maps.
These ideas had to be put on hold because of the Covid-19 pandemic. Alec wasted no time in sharing his Covid-19 creative toolkit full of suggestions to enrich people's lives during this period of great change.
Seasons feature heavily in his work as they influence our behaviour, help us deal with constant change and inspire us to thinking in different ways. With this in mind, he shared his ideas on how to Get creative on your winter walks and How Walking with Nature can help develop our sense of place-awareness, especially in springtime.
Some of the Walking for Health groups he has worked with have used his Covid-19 creative toolkit to great effect. Walk in the Park in Loch Lomond and the Trossachs National Park encouraged their Volunteer Walk Leaders to write poems and share their walking reflections. Read their stories here and enjoy the poem below.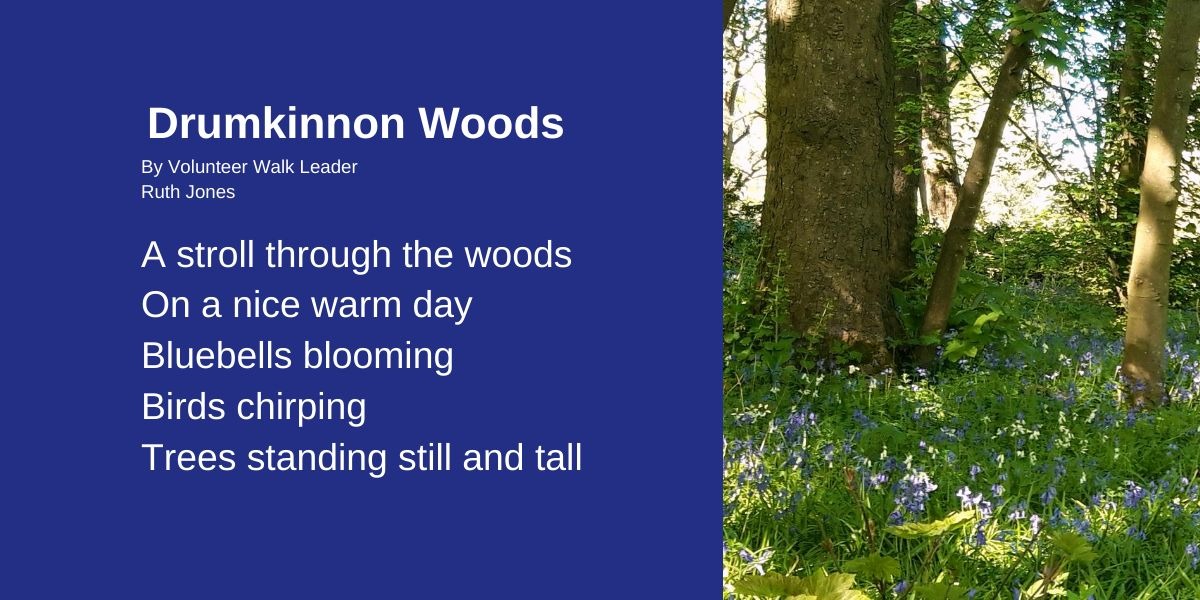 Poem Drumkinnon Woods by Volunteer Walk Leader Ruth Jones
One group who met with Alec is Dementia Friendly Prestwick who is making the town's promenade more accessible with colourful benches and improved road crossings. The group was very receptive to ideas of poetry walking sticks. A further idea inspired by Alec was the design of three poetry wind vanes, each featuring an island that can be viewed from the promenade and poetry from the group inscribed on the poles. Find out more about their project here.

Find out more about Alec's poem walking sticks on his website.
Alec has written walking mottos to give guidance on how we can all adapt to using public transport and travel safely in the midst of a pandemic. Enjoy his work here.
Listen to our podcast with Alec below.

Find out more about Alec's award-winning work here.
Our other creative walking activities
We are involved with the research project Walking Publics/Walking Arts to look at how the arts can be used to help people walk more and ensure anyone with a disability can be involved too. It will create resources to make walking more inclusive and help us all think about how we can make public spaces more accessible. Read project researcher, Dr Morag Rose's blog about the project here.
We have funded community projects such as ArtWalk Porty in Edinburgh to expand their programme and Forth Valley Art Beat's ArtCycle project 2021.
Our Walking with Nature campaign has suggestions to help walkers connect with nature and give purpose to their walks.
Walking with Nature: Kindness
Walking with Nature: Birdsong
Walking with Nature: Micro volunteering
Walking with Nature: Litter
Walking with Nature: Forests
Walking with Nature: Connecting with Nature wherever you are
Join in the hunt for nurdles and combat plastic pollution
Our walking bingo cards can be used to spot what is around you on your walk.
Spring Path Days Walking Bingo
Nature Walking Bingo
Christmas Walking Bingo
Ideas on how to make walking to school more fun include:
Spring Path Days: Back to school: Find out how much more fun your commute to school can be if you ditch the car.
Why walking to school is so important: Tips to keep walking to school fun, interesting, and safe.
Bring new fun to a regular walk: For ideas on making walking more fun for children.
Get ideas to make any walk with a loved one more special from our Love to walk this Valentine's Day feature.
Our Find your motivation to walk your way throughout January page suggests walking challenges, listening to podcasts, virtual walking routes, step count targets, and having a buddy as creative ways to motivate you to leave your house for a stroll.
Our walking meditation can help you to relax your mind while you walk your feet.