Throughout May we invited everyone to share why they love walking using comments, photos and videos of those places where they enjoy walking. Posts shared with us included nature photographs, selfies, videos and poems, outlining an unconditional love of walking, the immense benefits to physical, mental and social wellbeing and the inherent value placed on our Scottish landscape and heritage.
But what are some of the top reasons for walking? We share the thoughts and experiences of those who took part in our campaign.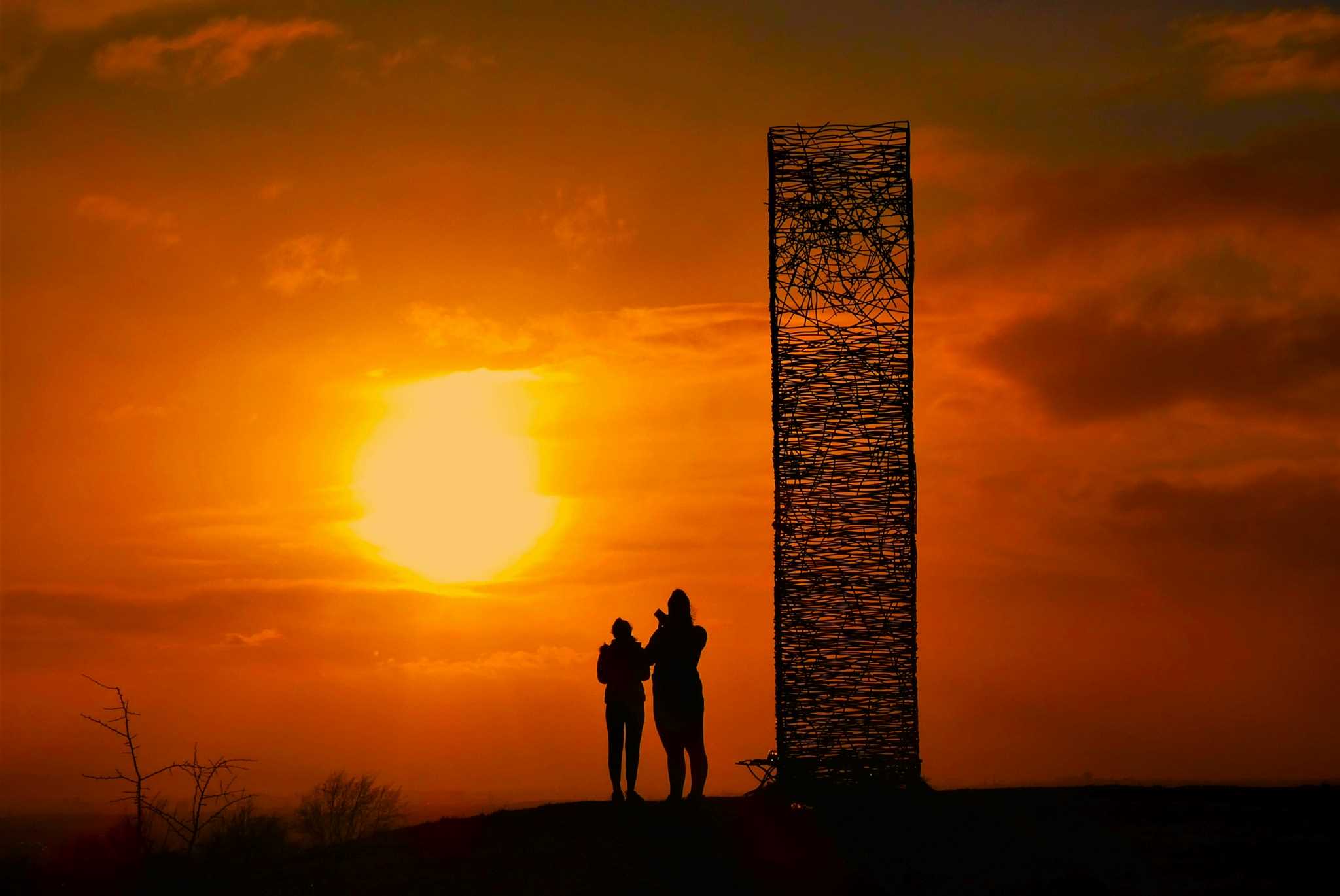 Staying active, fit and healthy
Physical activity, including walking, wheeling and cycling can provide many positive benefits including maintaining a healthy weight, strengthening muscles and can stave off serious health conditions. Physical activity throughout the working day can also improve focus, productivity and happiness in the workplace.
"I have had Long Covid for over a year now and walking is important to me as it allows me keep active at a manageable level of activity." - Sarah
"I love walking the Scottish Borders with my dog. We both get fresh air, exercise and clear the cobwebs of the day as we bond in nature." – Linda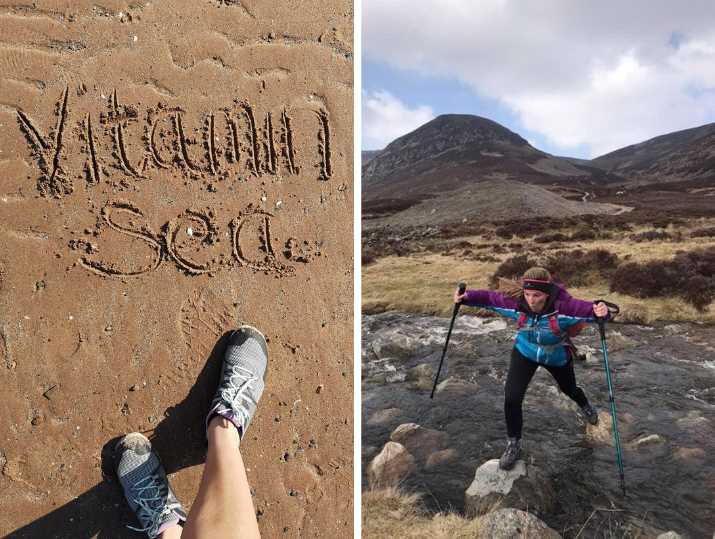 Mental wellbeing
Walking regularly can reduce the risk of depression, stress and anxiety and promotes positive mental health by helping you to sleep better, connect to nature and enhance your connection with your local area.
A Journey in my Wheels, one of our social media influencers and a wheelchair user says that spending time outdoors with her dog Sheldon improves her mental health and has provided her with a purpose. She explains that accessibility in outdoor places plays an integral part to her enjoyment of wheeling.
Among our influencers was Ross Cunningham, one of our Scottish Walking Award winners. He says,
"I love walking because it's not just great for your physical health, it's great for your mental wellbeing as well. When you're exercising, especially in nature, your brain releases endorphins which makes you feel a little bit happier and a little bit calmer".
Walking as a low-intensity exercise, offers invaluable headspace to think, decompress, organise thoughts and plan ahead.
"I love walking as it's there for me when I'm happy or sad. I've walked myself fit and walked myself mentally well. It pushes me to my limits when the weather is wild and lets me sing and dance on summits when it's sunny! Walking is the best medicine." – Claire
"I love walking. For me, it is about breathing, space and freedom." - Charlie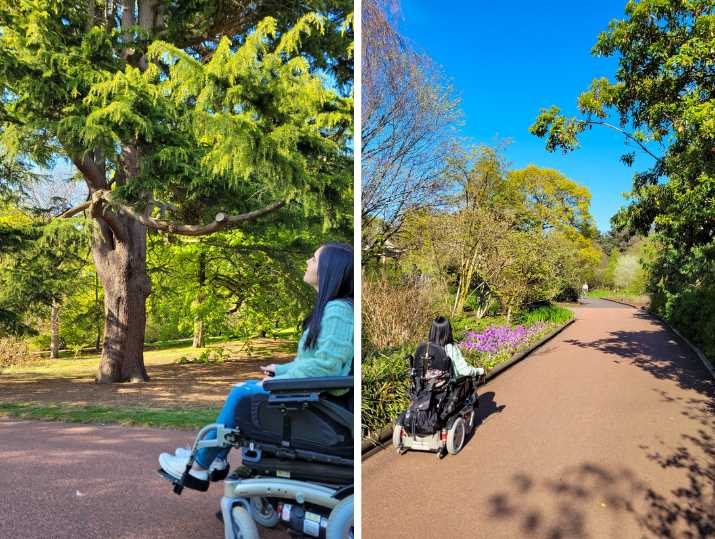 Connectedness to nature
Mental wellbeing benefits are significantly improved when walking is combined with urban parks, woodland and greenspaces. For some, like social media influencer ExploringEdinburgh, staying active is about a fundamental connection to and immersion in the natural world. Shawna says,
"Watching the seasons change, chatting to friends over the phone, and snapping plenty of photos on daily walks did wonders for my mental and physical health."
Sheron, another individual taking part in our campaign says,
"I love walking, especially on the new paths that Lochgoil Community Trust built. I love seeing the changes in nature from season to season and always experience a positive change in mood and energy. I often do a bit of micro volunteering along the way to help keep things nice for everyone"
SimplyEmma, one of our social media influencers, also a wheelchair user, shares how getting outdoors and spending time in nature on accessible paths can do wonders for her mental health and wellbeing. In particular, she enjoys spending time at the Edinburgh Royal Botanic Gardens. She says:
"I love spending time outdoors, especially when I'm amongst trees and nature. One of my favourite things about this walk is seeing everything change throughout the seasons. Whether it's exploring a forest trail with my nephews or a gentle walk in a local park with Allan, I always notice a big difference in the way I feel overall afterwards."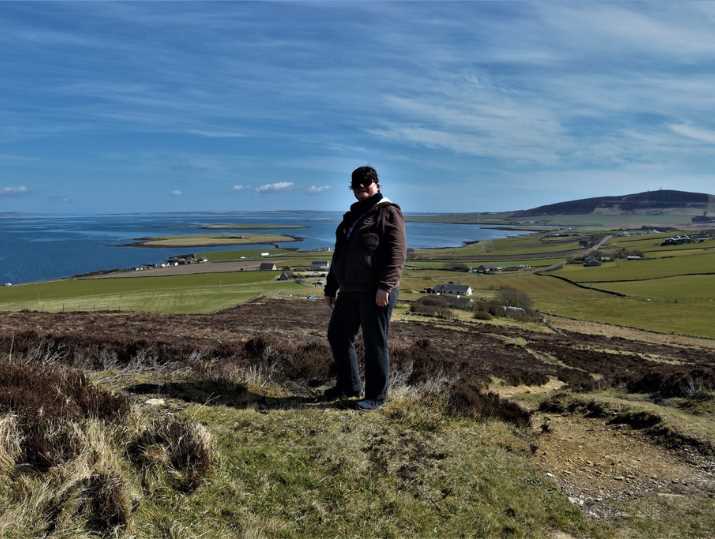 Spending time with others
Taking time to walk throughout the day offers a special opportunity to connect with friends, colleagues and loved ones or for giving back to the local community.
"I love walking because after became a widow before I was 40, I am finally thriving, not just surviving. I now run a walk, run, cycle FB [Facebook] group who regularly give back to the community through events and charity. Bringing people together in a time when we were forced apart." – Lorna
"Helping my lifelong friend to tick off a bucket list goal and put the world to rights, it's a joy to share my passion of walking with a friend who would otherwise not have the courage to explore such areas." – Liz
Our campaign, accompanied by an exciting competition, culminated with a prize draw. Mandy Clement, a resident of Carnwath, South Lanarkshire was selected as our random lucky winner, receiving a £500 voucher for Cotswold Outdoor.
Mandy said,
Winning this competition has been fabulous and I have invested in new boots, hiking socks, smidge (essential in Scotland) and a fabulous pair of waterproof trousers (another Scottish essential). Get yourself out there whether it is 20 minutes or a long-distance hike, look around and enjoy everything you see, hear and feel.

I have met so many wonderful people whilst walking in groups and with my dogs.
For the first time, we worked with a small group of Scottish social media influencers who shared their personal views and experiences of why walking and wheeling for exercise, travel and recreation is important to them. Each invited their followers to do the same, amplifying our ambitious vision for a walking nation, the importance of walking for health and wellbeing, and how being active can help to reduce environmental impact in line with Scotland's 2045 net-zero targets.
Influencers included Claire D'All and Simply Emma, both wheelchair-user and bloggers who love the outdoors and Zahrah Mahmood, also known as Hillwalking Hijabi – a Muslim woman based in Glasgow who encourages other Muslim women to get outdoors to enjoy the health and wellbeing benefits walking brings.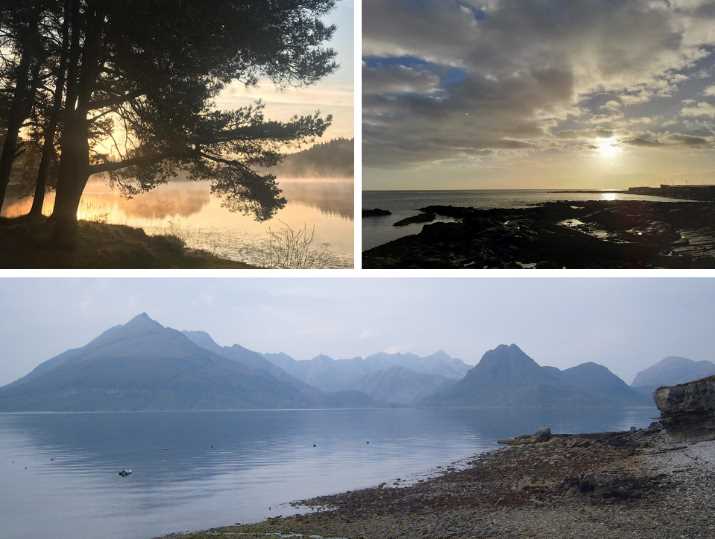 Our campaign ran alongside national Stress Awareness Month, Mental Health Awareness months and our Spring Step Count Challenge. We hope that National Walking Month has embedded within people's mind a reflection on what they love about being active and outdoors, and to continue walking beyond May for those invaluable mental and physical health benefits.
Kevin Lafferty, Chief Executive Office at Paths for All, said:
National Walking Month is my favourite month of the year - it highlights the power of walking for physical, mental and social health and wellbeing.

We love walking in Scotland and the month-long campaign helps more people walk every day and everywhere. We worked with social media influencers this year to reach out to a wider audience and inspire people with their personal stories about why walking is important to them and how walking reduces carbon emissions and can help protect our planet.

I am looking forward to building on the campaigns success to support more people to walk because it's the best way to get active.
At Paths for All we work to create opportunities and better environments to help encourage our communities to be more active, more prosperous and to make Scotland a greener country.
Our vision is clear, we want to get Scotland walking: everyone, every day and everywhere.