The ambitious project is a culmination of a year-long partnership between our Dementia Friendly team, here at Paths for All, the Psychiatry of Old Age Wards within Murray Royal Hospital, landscape architect Marion Preez of Urban Pioneers and a team of designers at Better Company, led by award-winning designer and inclusive design champion Lucy Richards. With inclusive design at the heart of the project, the shared gardens now boast an immersive space which is accessible and integrates a fundamental connection to nature for those living with long-term conditions, such as dementia.
Earlier this year, Murray Royal Hospital in Perth, which specialises in mental health and dementia care, was successfully awarded a significant sum of £115,000 by Tayside Health Fund, NHS Tayside's Charity, with an additional £40,000 awarded through us, at Paths for All. The sum allowed ambitious renovations across two shared gardens located on the hospital grounds.
The project was delivered with a wide range of objectives carefully woven into its design and delivery, including improving the quality of shared greenspace between the Leven ward and Garry and Tummel wards; creating opportunities for patients to participate in meaningful walking and physical activity to improve mobility and time spent being active; and to improve patient and staff wellbeing through opportunities to connect with nature.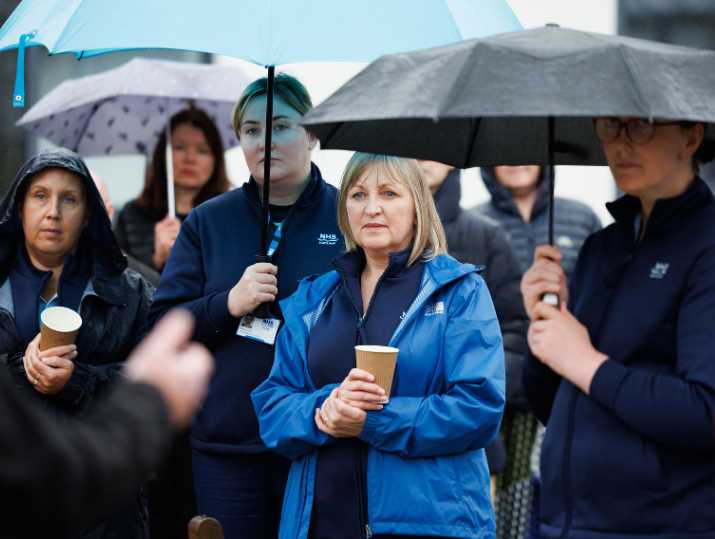 Spending time outdoors and being physically active can boost the physical and mental wellbeing of patients, aid recovery and encourage vital connections to memory. The renovated gardens foster a deeper connection between patients, staff and visiting families and the natural environment. Completed works on planting also support local biodiversity and improve air quality, whilst offering places to walk and rest creates space for contemplation.
Improvements also included landscaping, the upgrade and installation of new dementia-friendly seating areas, and the installation of Strength and Balance posts to encourage gentle movements in between short walks. Path networks of both gardens were improved, with new sections added to better connect green 'spaces' and offer opportunities for social interactions, meaningful activities such as gardening, occupational therapy activities and to encourage patients to move more.
With creative input from Kimberly Carpenter, an award-winning freelance designer and illustrator, a series of dementia-friendly interpretation boards guide users around the gardens, offering a deep delve into the natural world.
Clinical and Professional Team Manager, Shelly Milligan from Murray Royal Hospital said,
Plans for the sensory garden have been specifically designed to provide patients with a relaxing space where they can connect with nature, relax, and take part in activities that will help them improve both their physical and mental well-being.
We also wanted the area to provide a relaxing space for families and carers to spend quality time with their loved ones.
On behalf of the Older Peoples Service at Murray Royal Hospital we want to say a huge thank you to Kayleigh, Paths for All, Tayside Health Fund and to the artists and designers involved in this wonderful project.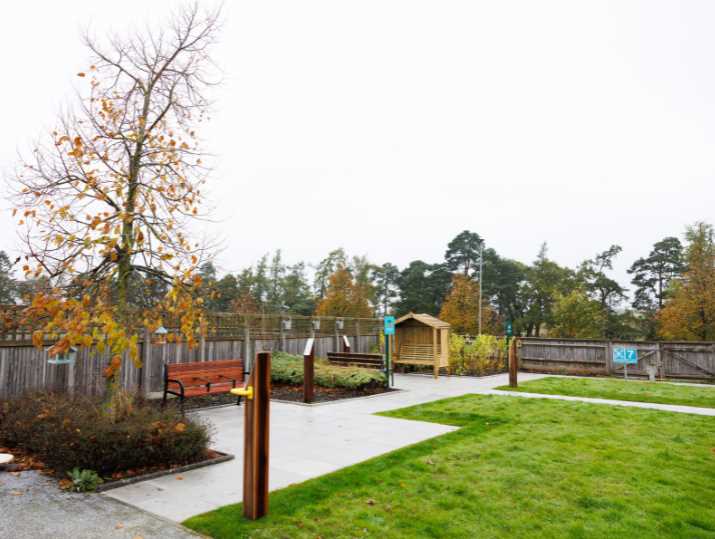 Kayleigh Lytham, Dementia Friendly Development Officer at Paths for All, said,
I'm absolutely thrilled with the outcome of the renovation works and the commitment of those involved in planning and delivering what has been an ambitious and incredibly beneficial project. We were delighted to be given the opportunity to lead the project. The opportunity to collaborate with a host of expert partners has offered a wealth of learning and insight.
With patient experience and nature connectedness at the centre of the project, this has culminated in shared spaces which offer countless opportunities to reflect, connect and move more in accessible and creative ways. A huge thank you to everyone involved.
Notably, Alec Finlay, our artist-in-residence created bespoke 'poem-objects' – a suite of garden tools such as watering cans, seed trays and bird boxes adorned with poems. It is hoped these objects, which will be well-known and used by patients, will harken back to fond memories and past experiences centred around nurturing and tending to plants, colours and seasonal cycles. At the same time, the works celebrate and were inspired by Perthshire poet and gardener, G.F. Dutton.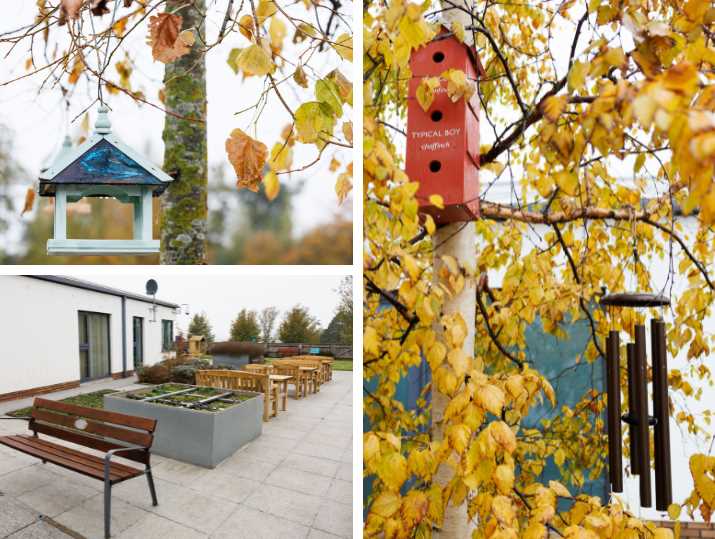 Shelley McCarthy, Charity Chief Officer for Tayside Health Fund, NHS Tayside's charity said,
Dementia has been a national priority in Scotland since 2007 with a focus on person-centred treatment in all settings.
Tayside Health Fund is delighted to be supporting such an innovative project at Murray Royal Hospital. Safe, therapeutic areas are crucially important for the delivery of health care and are particularly vital to promoting good mental health. I am delighted we have been able to transform both greenspaces into something wonderful which will have fantastic health benefits for our patients.
Chris Lamont, Senior Service Manager - Mental Health Services, Perth and Kinross Health and Social Care Partnership said,
We are delighted with the beautiful outdoor environment which has been created for the patients and their families and carers. The amount of work and effort which has gone into planning and designing this space has been enormous and we are hugely grateful to everyone who has supported and been involved with this project.
These lovely outdoor areas will benefit many people for many years to come and this is something which we are endeavouring to extend across other health facilities within the Health and Social Care Partnership.
The transformation of the shared gardens has created attractive and serene spaces, natural ambience and personal experiences centred around moving more to support recovery of patients and facilitate valuable opportunities to enjoy physical activity in accessible and meaningful ways. This project has reflected the fundamental needs and wishes of patients, staff and visitors.
You can watch key highlights from the launch event in our heart-warming video here.
Find more information about our Dementia Friendly work here.
If you'd like to understand context of the project and the exciting developments which have taken place, you can read an earlier, related story from June 2023 here.