Written by our Smarter Choices, Smarter Places Programme Manager Stuart Douglas.
Three months ago I drafted a blog to share Paths for All's lessons on its journey to have near-to-zero carbon emissions by 2024. Then lockdown happened.
Now, when I read my original thinking it seems that it was written in another era. We were celebrating how an office move had allowed desk-sharing to reduce our office footprint, how being located near bus and rail stations allowed more frequent public transport use, more sharing and collaboration would reduce the need for travel and how the gradual introduction of video-conferencing would replace car journeys. Three months later and those hopes seem naive and lacking in ambition.
Revisiting the blog did remind me that the mantra we developed 'Work is what you do, not where you are' is just as relevant in whatever new normal we find ourselves in.
Adopting flexible, remote and home working meant that Paths for All has been able to continue working throughout the lockdown period, albeit with some restrictions. But the plans we had to change our travel to reduce our carbon emissions and increase our resilience to extreme weather conditions have been applicable to dealing with pandemic lockdowns. It would be false to claim any skills at crystal-ball gazing, but the impact has been clear.
Working at home, aided by the remarkably rapid adoption of videoconferencing, has meant that the vast majority of our work can continue without the need for travel. Not for all staff, not all of the time, but lots and lots can be achieved.
The time spent recrafting our flexible working policy has paid dividends. Our approach to managing staff based on the results they achieve, aligned to a culture of high trust has meant we have carried on.
The sustainable travel hierarchy had become our defacto decision-making tool for any journeys we made. At the top of the hierarchy is not travelling in the first place.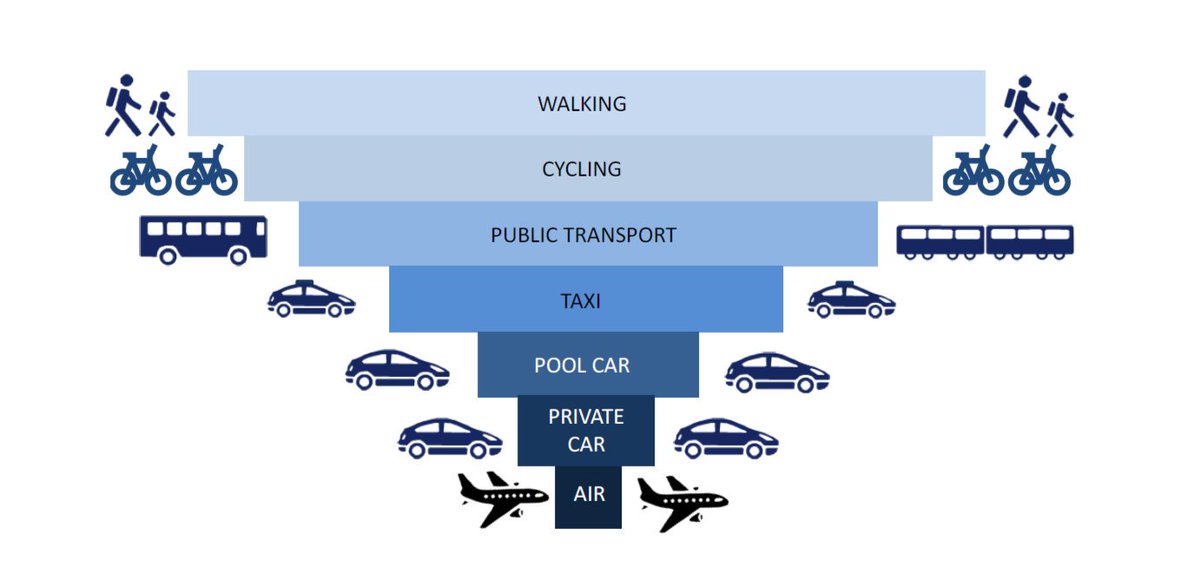 A suggestion that was often dismissed three months ago is now a part of our everyday response. Three months ago I longed for the day when videoconferencing was as easy as making a phone call. No complicated downloads and log-in, no quibbling about what system is better than others. And that day has come. I still have six different apps to remain connected, but it's a lot slicker than it has ever been.
We had a policy that allowed staff to take 30 minutes from each working week to be active, and we encouraged walking meetings. The reasons for this haven't changed- being physically active keeps you healthy and makes you more productive. Consequently, we still encourage staff to be physically active as part of their daily routine.
Our travel policy is clear that we do not expect staff to provide a personal vehicle to undertake their work. With limited need to travel to an office, and no need for a car for work duties there is a real potential for staff to no longer own a car. This has the potential to lift many people out of transport poverty. Public Transport will start to get back to normal and we will see what new practices appear to ensure staff remain staff can travel if they must.
Many people have been forced into working at home due to the pandemic. Many more have been furloughed and have enjoyed not having their daily commute.
There is a real opportunity to build on this impetus and make home working for those that can, and want to, a real alternative to wasting hours very week undertaking unnecessary commutes.
The benefits to organisations are huge. Happier, more productive staff and a wider pool to recruit from will increase business effectiveness. Reduced emissions making carbon targets more achievable. Smaller offices spaces reducing costs. Cleaner air contributing to a healthier Scotland.
I am delighted that we have been able to adapt our Smarter Choices, Smarter Places Open Fund to include a new outcome 'More people choose not to travel'. This outcome can support public and third sector organisations to embed or adopt home-working as a permanent feature of their everyday operations.
Grants of between £5,000 and £50,000 are available. Planning, developing new policy and practice guidelines, introducing activities to keep staff physically active, training for staff, providing support for those that need it are all activities that can be funded. Click here for more information and to apply.