There is not only a growing body of science that demonstrates connecting with nature has positive benefits to our health and wellbeing, but also that those who notice nature are more inclined to live in an environmentally friendly and sustainable way.

The Paths for All's Walking with Nature campaign has encouraged people to connect with nature and take small actions to improve the places where they walk. It has explored that connecting with nature is much more than simply spending time in nature. To connect with nature, you must tune into the natural world, noticing the sounds, sights, textures, and scents.
According to the five pathways to nature connectedness, there are a number of ways to make these connections;
Contact – engaging with nature through the senses for pleasure e.g. listening to birdsong, smelling wild flowers, watching the sunset.

Beauty – engaging with the aesthetic qualities of nature, e.g. appreciating natural scenery or engaging with nature through the arts.

Meaning – using nature or natural symbolism (e.g. language and metaphors) to represent an idea, thinking about the meaning of nature and signs of nature, e.g. the first swallow of summer.

Emotion – an emotional bond with, and love for nature e.g. talking about, and reflecting on your feelings about nature.

Compassion – extending the self to include nature, leading to a moral and ethical concern for nature e.g. making ethical product choices, being concerned with animal welfare.
This week, we are encouraging you to walk outside and connect with nature wherever you are. Whether it be on balconies, in gardens, parks, paths, forests, beaches, or lochs, we encourage everyone to notice the nature that is all around us.
Even if it's just for ten minutes, pop outside. Notice the clouds in the sky, the heat of the sun, the wind on your face. See if the street trees have starting flowering or if that crack in the pavement has allowed greenery to sprout through.
If you find there's a lack of nature in your area you will still find positive wellbeing benefits from taking part. Maybe take note of where there are opportunities for more nature, and take action to see what you can do to encourage more nature where you live.
Connecting with nature forms just one step of NatureScot's Make Space for Nature campaign.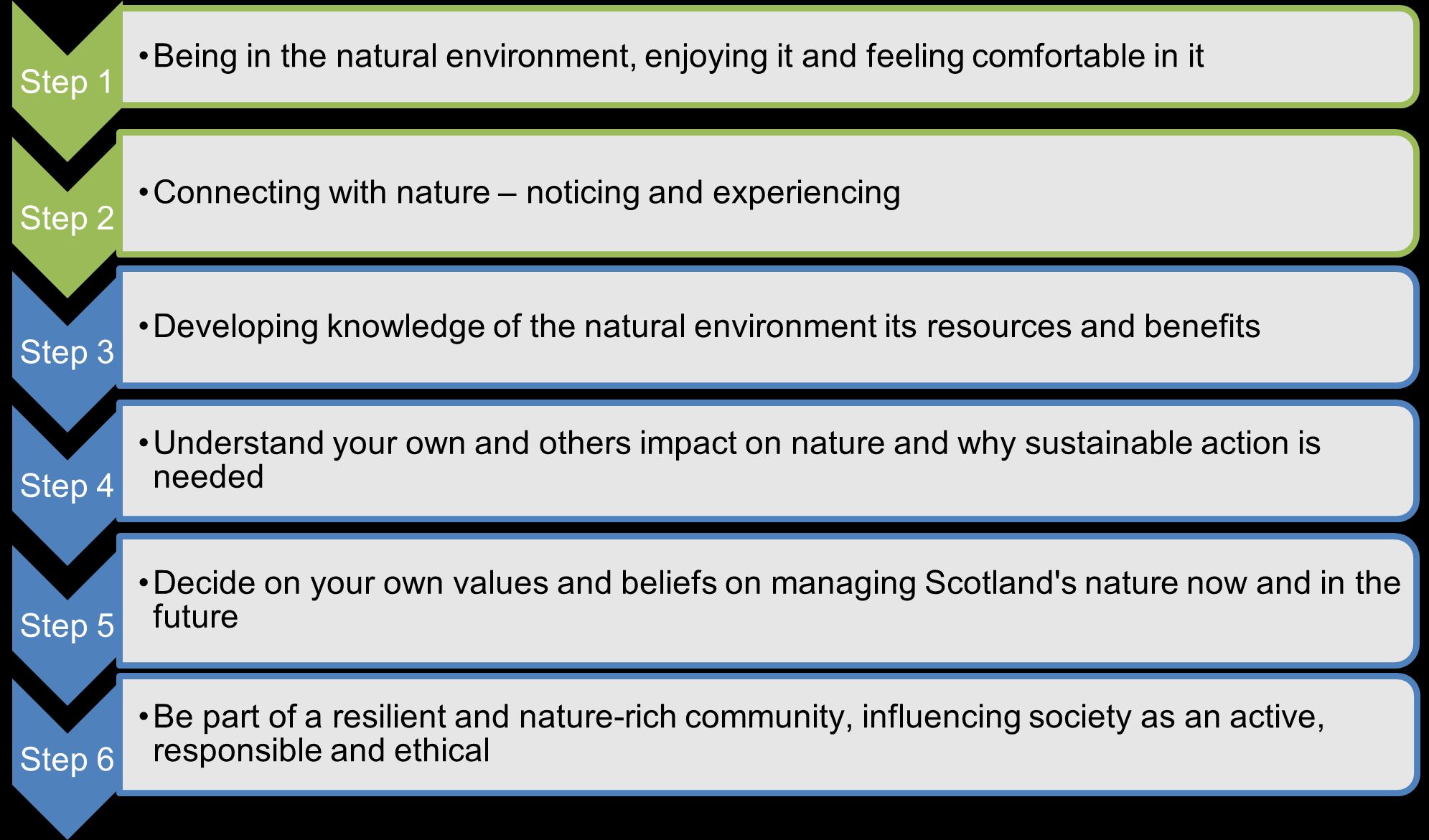 Steps one and two are about building an emotional connection with nature, with the following steps outlining a natural progression of gaining knowledge and understanding and taking action. It's likely that you have already taken a few of the steps without even thinking about it. By using these steps we encourage everyone to Make Space for Nature, physically, emotionally, mentally, and in their lives.
See more on what you can do to Make Space for Nature this spring.
Abi Gardner is the Biodiversity and Climate Change Engagement Officer at NatureScot.