A new lockdown for the new year means a whole new routine for families. Many parents will be scratching their heads to come up with ways to keep children happily, healthy and on their toes.
We've been doing some thinking too to help you make the most of the time and grasp opportunities to get outdoors for exercise as often as we like.
Stroll to sledging
Snow-covered hills can cause great excitement for any child who owes a slegde, so identify a local slope and walk there and back. For an extra work out for parents, invite wee ones to sit in the sledge for a few minutes and get pulling!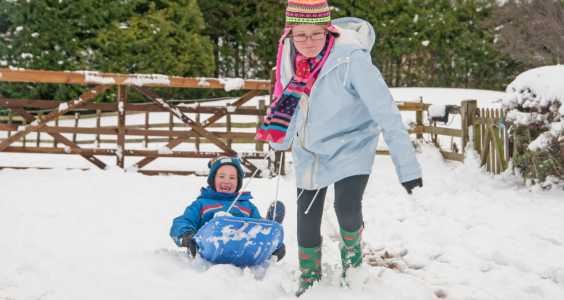 Memory lane
Take a walk or cycle to a place that holds memories for you as a family. Perhaps a house you used to live in, or a place you used to go when the children were babies. Take your camera and make some new memories.
Bookend the fun with walking
Whatever activity your family enjoys, you can incorporate a walk as part of it. If you fancy a baking day, walk to the shops for the ingredients. Or if the kids want to get crafty, take a trip to the park to search for pinecones and leaves to decorate.
Staying inside?
If you fancy a spell indoors and want to satisfy your child's craving for screen time, don't forget to keep active.
Via YouTube, Joe Wicks is once again offering a daily morning HIIT session for juniors, or you can stretch it out with Cosmic Kids for a story-themed yoga session for kids.
Our partners Sustrans Scotland have also developed a cool four-week Outside In resource to give you ideas on how to keep kids active and entertained during lockdown.
Heard of Disney dance-alongs? The This Girl Can website teaches you routines to favourite Disney tunes such a "I Wanna Be Like You" from the Jungle Book and "You're Welcome" by Moana.
Something more?
If you're looking for a longer walk or more of an adventure, there's some fantastic suggestions of family walks this winter from our friends at Visit Scotland.
Please remember to check Covid-19 travel restrictions before planning your trip and stay safe.